Hour of Code Teacher Guide
Get your Hour of Code setup in 5 minutes!
32 tutorials for grades K - 12
Progress tracking
Student metrics & certificates
Lesson guides & answers keys
Marketing materials
<
Planning Guide
With Tynker's game-based approach to learning, it's easy to engage students of all ages, interests, and experience levels.
Tynker uses structured and open-ended activities that allow children to learn and create.
New to Tynker? Create a free account
Add all your students to a class. Students will be able to access the Hour of Code activities from their dashboard.
Existing Teachers - no prep needed
You're all set! The Hour of Code activities will automatically show up in your students' dashboards during the event. Encourage your students to log in to their accounts during the Hour of Code week to participate. Please spread the word to your fellow teachers.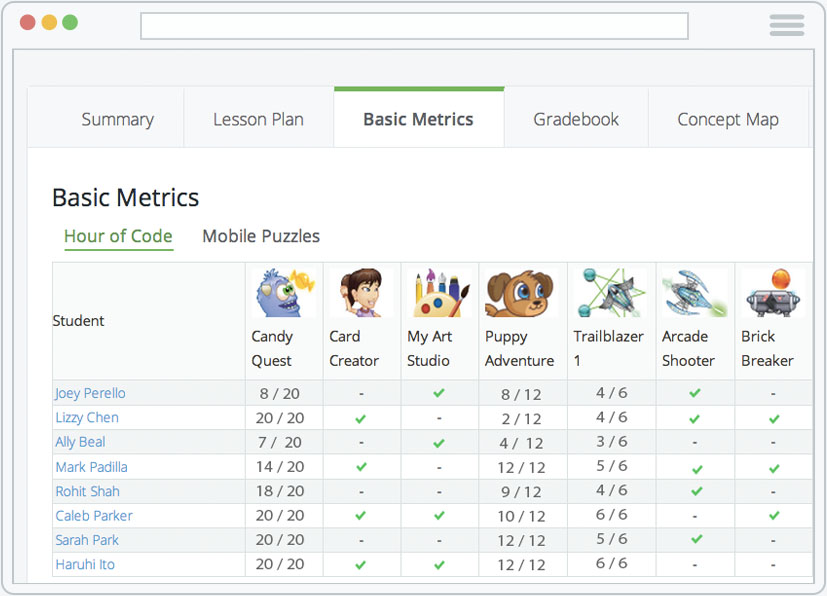 What Students Do
Solve game-based coding puzzles to learn the basics
Follow step-by-step tutorials to create drawing, music, animation, storytelling, physics, and arcade game projects
Save and publish their creations
Download the free Tynker App to create and run projects on tablets
What Students Learn
Students use critical thinking and problem solving skills to complete puzzles while learning programming concepts such as sequencing, repetition, and conditional logic. As they create games, stories, and art with code, they learn how to apply these concepts. Students build projects that they're proud to share with their family and friends. With Tynker, children learn that programming is neither difficult nor boring—it's a powerful tool that they can use to bring their imagination to life!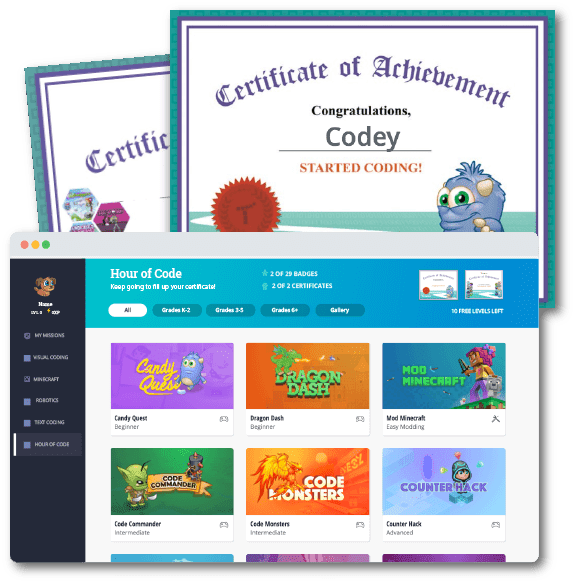 Tips for Success
Pick a sequence of activities based on interests, grade-level and experience
Encourage students to create - Make a portfolio of games, art, music, comics greetings and more
Explore other students' creations and discover what they can do
Don't stop! Continue solving puzzles and making apps from home
Fun Ideas for an Exciting Event
Plan a Family Hour of Code Showcase! Invite parents, community leaders and school administrators to see the great work you and the students are doing.
Reach out to the media and turn your Hour of Code into a community success story! Use our press template.
Post printouts of kids' custom characters on a bulletin board
Have a classroom challenge! Showcase the best creations
For experienced students – pick a theme and ask students to create lessons for each other using Tutorial Designer
Beyond the Hour of Code
Tynker makes it easy to teach computer programming. The curriculum is organized into grade-specific courses where students move at their own pace through scaffolded lessons to learn concepts and apply them creatively. Tynker includes everything you need to teach programming in a fun, engaging way, including lesson plans, teacher guides, answer keys, and standards alignment.
STEM Project Library
Ready-to-use project templates that integrate coding into what you already teach, across the curriculum.
See All Courses
Refer a Teacher
Help spread the word. Recruit five fellow educators to host an Hour of Code with Tynker and receive a free Tynker lesson for you and your five invitees. Thank you for your support!
Refer other Educators