Standards Alignment
Tynker's course pathways and learning modules align with the Common Core State Standards, the Next Generation Science Standards, CSTA K-12 standards, ISTE standards, several US state CS standards, and the UK National Standards.
CSTA Standards Alignment
Established by the Computer Science Teachers Association (CSTA), the CSTA K–12 Computer Science standards delineate a core set of learning objectives designed to offer K–12 students a complete pathway from learning CS fundamentals, secondary-level courses, preparing them all the way to college and career readiness.
Tynker's elementary, middle and high school curricula rigorously cover the topics specified by the CSTA K–12 Computer Science Standards including Computing Systems, Networks and the Internet, Data & Analysis, Algorithms and Programming, and Impacts of Computing.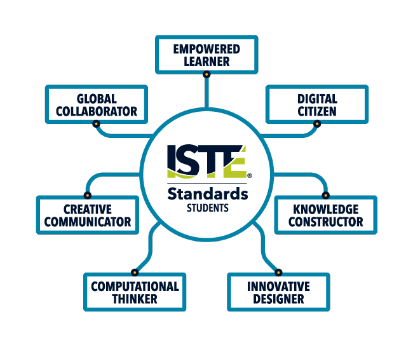 ISTE Standards Alignment
The International Society for Technology in Education (ISTE), has created standards for the use of technology in teaching and learning. The ISTE standards is a framework for students and educators for learning and teaching computer science.
For more information on how each Tynker lesson aligns with ISTE standards, please review our Scope and Sequence.
Advanced Placement Computer Science Coverage
AP Computer Science Principles and AP Computer Science A are two college-level computer science courses that introduce students to computer science and challenge their understanding in real-world applications of coding.


State-Level CS Standards Alignment
Tynker's curriculum aligns with several state-specific standards. Select your state to gain a more in-depth understanding of how the curriculum caters to your specific needs.
Next Generation Science Standards Alignment
The Next Generation Science Standards (NGSS) are K–12 science content standards that set the expectations for what students should know and be able to do.
Tynker offers a collection of 12 courses with NGSS-aligned coding lessons in the areas of Math, Earth Science, Life Science, Physical Science, Social Studies, and English. For more information, please review our Scope and Sequence.
K-8 NGSS Alignment
Common Core Alignment
Tynker courses comply with 1st–8th grade US Common Core standards to ensure coding can be integrated into any subject area.
| Grade | {{ name }} |
| --- | --- |
| {{ grade }} | {{ contents[name] }} |
Legend
{{ title }}
{{ description }}
No CCSS Standard for this Grade Level
| Grade | {{ name }} |
| --- | --- |
| {{ grade }} | {{ contents[name] }} |
Legend
{{ title }}
{{ description }}
No CCSS Standard for this Grade Level
Detailed Descriptions
Grade: {{ vm.currentGrade }}