Unleash Summer Creativity with Coding
Have fun & sharpen STEM minds this summer! 5,000+ activities for all ages & skill levels. Modify Minecraft, create games, art, music, apps & more.
Start anytime and get 3 full months of unlimited access for $75.
Buy now
30-day money back guarantee. Cancel anytime.
Read more
Why Should Kids Learn to Code Over the Summer?
Beat the Summer Slide
Avoid summer learning loss by engaging minds and fostering creativity through coding.
Build Skills & Grades
Coding builds logic, critical thinking and problem-solving skills that lead to better grades.
Have Fun
Our program enables kids to mod Minecraft, code games, art, animation, music, AI and more.
Money-Back Guarantee
We are confident your child will love Tynker so we offer a 30-day money-back guarantee.
Kids Love Tynker — What Will Your Child
Create This Summer?
All Tynker courses and apps are included in a single purchase.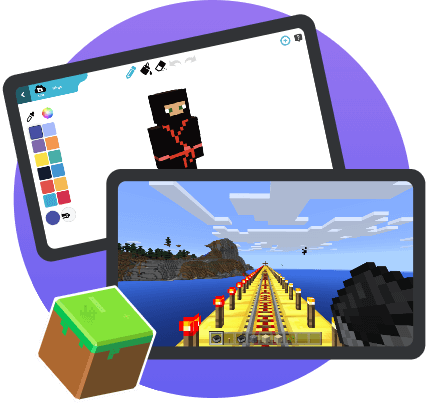 Code and Mod Minecraft
Tynker offers a treasure trove of Minecraft courses and projects that mix gaming with coding.
Design skins, items, blocks, mods, and mobs
Model 3D creatures and modify their behaviors
Create mini-games and play with friends
Build pyramids, design railways, and generate cities
Access and remix from millions of community resources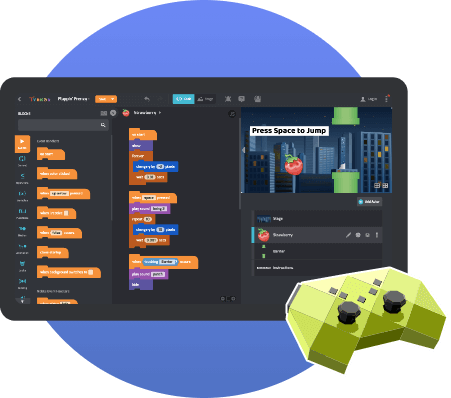 Design and Make Games
With Tynker your kids will not just play games - they will code their own to play with friends!
Build versions of classic arcade games
Harness physics to simulate bouncing balls & jumps
Handle user input using touch, mouse and keyboard events
Program fluid motion along x- and y-axes
Keep score using variables and lists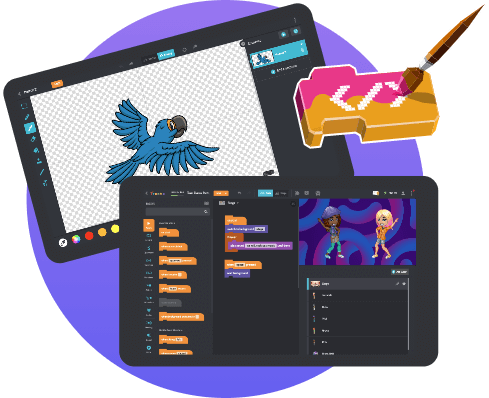 Create Art and Music
There is so much creativity in coding as kids make art, music and animations tailored to their unique ideas and imagination.
Design animated characters
Experiment with geometric math art
Learn to compose music with code
Create animated birthday cards and comics
Recreate popular physics-based games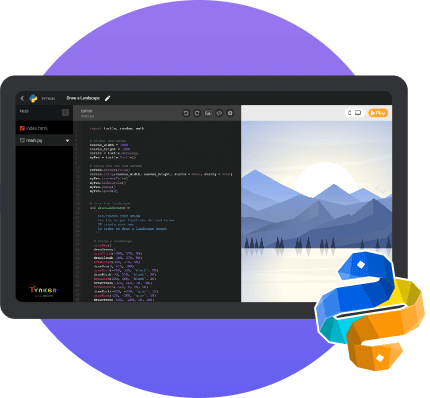 Coding for All Ages & Skill Levels
Kids can explore the world of advanced coding using Python, Java, JavaScript, and HTML.
Build websites with HTML & CSS
Utilize JavaScript to build web apps and games
Use the HTML canvas for drawing and displaying images
Learn Python syntax, variables and expressions
Define arrays, dictionaries, and objects to store structured data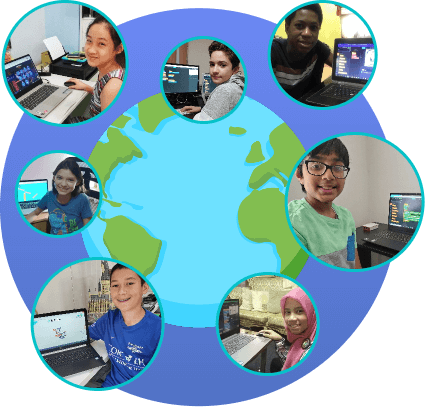 Collaborate with Others
Tynker is the world's largest coding community for kids to collaborate, inspire, and create.
Learn and grow with kids who love coding & STEM
Safe and moderated activity
Weekly featured makers
Remix from millions of projects
Tynker is Available Anytime, Anyplace
Take Tynker on the go! Award-winning coding courses let you code on your mobile device so you are having fun and learning all summer long.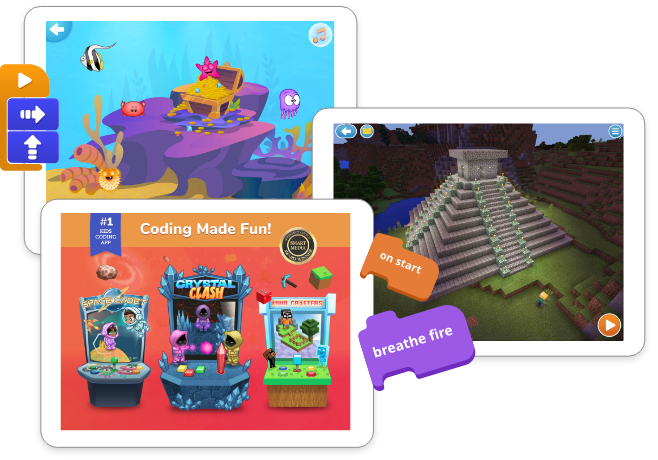 Tap-Tap picture coding with voice-overs. Pre-readers solve story-based puzzles and build their first programs in coding sandboxes. Ages 5-7
Drag-and-drop block coding with a full-featured workshop. Build games and apps, compose music and art, control smart devices, and much, much more. Ages 7-12
Drag-and-drop Minecraft modding. Design skins, blocks and items. Modify mob behaviors. Create mods and add ons. Explore worlds! Ages 7-12
Choose a Plan to Accelerate Your Learning
Only Tynker Includes Expert 1:1 Coaching with All Paid Plans
FAQ
Is coding for kids good?
We're living during a high-tech revolution, witnessing life-changing advancements in medicine, environmental conservation, and much more. At the core of all these amazing projects and discoveries is CODE. There's a lot of exciting and imaginative work going into new technology from coders all around the world, transforming fields you wouldn't normally expect and creating huge opportunities for your child in the future.
As kids and teens learn to code, they also build essential skills like critical thinking, logic, and problem-solving. They learn to logically sequence events, create playable games, tell good stories, and model real situations. They also learn computational thinking by developing algorithmic and design thinking abilities. Learning to code has become an essential element of a child's education and an excellent way to express their creativity and imagination.
Why should we use Tynker coding for kids?
Tynker is the world's number one coding platform for children ages 5 to 18 for a reason—it works! Tynker powers the creativity of over 100 million students and serves thousands of schools and educators worldwide.
Tynker's award-winning, gamified courses and activities encourage kids to complete projects as they have fun, allowing them to progress from novices to experts using languages like Python. Tynker's interactive lessons have built-in tutorials for all ages and skill levels. Our highly-rated mobile app (4.7 stars) lets students take Tynker on the go. Learning how to code with Tynker unlocks and empowers children's creativity, teaching them life-long skills they can use today and into the future.
How does Tynker coding work?
Tynker's program provides individualized learning with built-in tutorials and hands-on projects so kids and teens can learn to code easily at their own pace while having fun. Tynker provides story-based lessons that engage children of all ages and offers powerful creativity tools to let kids create anything they can imagine with code. Tynker places your child on the right path and motivates them to progress to more complex skills — advancing to real-world text languages like Python and JavaScript and building apps, games, art, and more with code.
Tynker also has an inspiring global community where millions of kids create and learn from each other in a safe, moderated environment.
How do I know my child is learning how to code?
Tynker automatically tracks your child's achievements as they work through lessons and activities. From your Parent Dashboard, you can view your children's progress through the courses, the projects they've created, and the concepts they've learned. You can even share projects with your friends and family.
At what age can my child start coding?
With Tynker, kids can learn to code at any age and as early as 5-6 years old. Tynker offers a range of solutions with icon-coding for pre-readers, block-based coding, and advanced courses in Python, JavaScript, data science, art, and image processing. Tynker will assess your child when they start and place them on the right path.
Do you offer discounts for multiple children?
Yes, we have family plans that allow up to 3 children in one account. With our family plans, everyone can enjoy coding together.
Can my children share a single account?
Multiple children cannot share the same account, because they will overwrite each other's work. We offer discounts when you add additional children to our plans.
Will my subscription renew automatically?
Yes, your subscription will renew automatically by default. After purchasing, you can turn off recurring billing and edit any other payment information from your Tynker parent dashboard.
How do I turn off auto-renewal for my subscription?
If you purchased the subscription from our website, you can cancel a plan by turning off automatic renewal in settings via your Parent Dashboard. Click "Manage" next to each child and select "cancel." This will remove auto-renewal.
If you purchased the subscription through our iPad app, you need to cancel through the iPad general settings. Open up the settings for the iPad and scroll down until you see iTunes & App Store. Then, select the Apple ID that you used to sign up for the subscription. When you get the pop up, select View Apple ID. Scroll down until you see Subscriptions and click on Subscriptions. Find Tynker and select Cancel.
What are the technical requirements for Minecraft modding?
We currently support two versions of Minecraft – Minecraft (formerly known as Pocket Edition or Windows 10 Edition) and Minecraft: Java Edition. To use mobs, skins, blocks, and Add-Ons for Minecraft, you must install Minecraft on either your computer or your mobile device, download the creation onto the device, and import it into Minecraft.
To deploy mods, skins, and resource packs for Minecraft: Java Edition made with Tynker, you must have purchased a Minecraft account from Mojang and installed Minecraft: Java Edition on your desktop or laptop computer. You will need to connect to our Tynker server and your private world to see your creations.
What devices are Tynker courses supported on?
You can access Tynker courses from any computer with a modern browser and Internet connection. Some courses are also available on the Tynker iPad app. To access courses from the iPad app, sign in to your account.
Do you have a satisfaction guarantee?
Of course! We want you to love Tynker (and we think you will), but if Tynker is not a good fit for your child for any reason, we have a 30-day money back guarantee. If you purchased the subscription through our website, just send us an email at support@tynker.com.
If you purchased the subscription through our iPad app, please contact the Apple App store to request cancellation and a refund.
Does Tynker offer live classes?
Certainly! Tynker offers a unique advantage to its users by including two live, one-on-one coaching sessions with all paid subscriptions. These sessions are designed to provide a personalized start to the coding journey and are recommended, but optional. Coaching sessions expire 30 days after purchase.
Who is BYJU'S?
BYJU'S is the parent company of Tynker and the world's leading edtech company. BYJU'S mission is to create state-of-the-art global learning tools at the cross-section of technology, interactive content, and personalized learning methodologies. With more than 100 million registered students and 6.5 million annual paid subscriptions, BYJU'S is creating a new innovative way of learning through hands-on visual lessons taught by highly-trained educators.