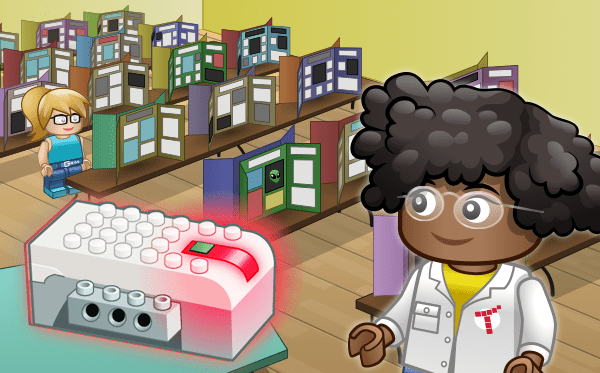 An introduction to WeDo programming where students extend their virtual programs with physical sensors in the LEGO WeDo Smart Hub.
Grades 3-5
Beginner
Web iPad
Lesson 11 : Fly a Drone
WeDo Coding
Time: 40+ minutes
Introduction
Tynker Blocks Introduced
Vocabulary
Objectives
Materials
Warm-Up (5 minutes)
Activities (40+ minutes)
Facilitate as students complete all Fly a Drone modules on their own:
1. Drone (Introduction)
2. Rotations (DIY)
3. Stunt Pilot (DIY)
4. Quiz (Multiple Choice)
Extended Activities (5 minutes)
U.S. Standards
CCSS-ELA: RI.3.7, RF.3.4, RF.3.4.A, SL.3.1, RF.4.4.A, RF.1.4.A, RF.4.4, SL.4.1, RF.5.4.A, RF.5.4, SL.5.1
CCSS-Math: MP.1
CSTA: 1A-CS-01, 1A-CS-02, 1A-AP-09, 1A-AP-11, 1A-AP-12, 1A-AP-14, 1A-AP-15, 1B-CS-02, 1B-CS-03, 1B-AP-11, 1B-AP-12, 1B-AP-15
CS CA: 3-5.CS.1, 3-5.CS.2, 3-5.CS.3, 3-5.AP.10, 3-5.AP.13, 3-5.AP.14, 3-5.AP.17
ISTE: 1.c, 1.d, 4.d, 5.c, 5.d, 6.b
U.K. Standards
Key stage 2
Pupils should be taught to:
design, write and debug programs that accomplish specific goals, including controlling or simulating physical systems; solve problems by decomposing them into smaller parts
use logical reasoning to explain how some simple algorithms work and to detect and correct errors in algorithms and programs
understand computer networks, including the internet; how they can provide multiple services, such as the World Wide Web, and the opportunities they offer for communication and collaboration
use technology safely, respectfully and responsibly; recognise acceptable/unacceptable behaviour; identify a range of ways to report concerns about content and contact
Class Presentations
These student-facing slide presentations help educators seamlessly run Tynker lessons in a virtual or physical classroom setting. Each lesson has its own set of slides that introduce the big ideas, suggest unplugged activities, and include a section for each activity module. While running lesson slides, you can switch back and forth between the activity, the slides, answer keys and other lesson materials.
A sample slide presentation is available for your review. Please log in to view all the class presentations available with your plan..
Lesson 2
Light and Sound
21 Slides
Lesson 4
Milo and Friends
23 Slides
Lesson 5
Game Controller
23 Slides
Lesson 7
Weather Station
19 Slides