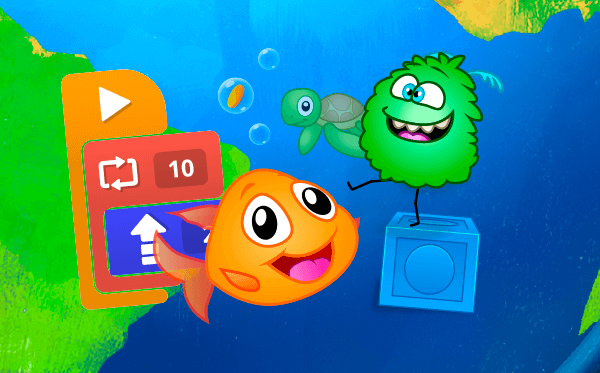 Picture-based coding with fun adventures and colorful characters on the iPad.
Pre-K to Grade 2
Beginner
iPad
Voiceovers
Lesson 23 : Starfish Spirals
Pre-Reader Course Collection
Time: 45+ minutes
Introduction
Tynker Blocks Introduced
Vocabulary
Objectives
Materials
Warm-Up (15 minutes)
Activities (30 minutes)
Facilitate as students complete all Starfish Spirals modules on their own:
Starfish Spirals
Coding Prompts
Note:
Extended Activities (10 minutes)
U.S. Standards
CCSS.Math: MP.1
CSTA: 1A-AP-09, 1A-AP-11
CS CA: K-2.AP.13, K-2.AP.17
ISTE: 1c, 2b, 5c
U.K. Standards
Key stage 1
Pupils should be taught to:
understand what algorithms are, how they are implemented as programs on digital devices, and that programs execute by following precise and unambiguous instructions
use logical reasoning to predict the behaviour of simple programs
use technology safely and respectfully, keeping personal information private; identify where to go for help and support when they have concerns about content or contact on the internet or other online technologies
Class Presentations
These student-facing slide presentations help educators seamlessly run Tynker lessons in a virtual or physical classroom setting. Each lesson has its own set of slides that introduce the big ideas, suggest unplugged activities, and include a section for each activity module. While running lesson slides, you can switch back and forth between the activity, the slides, answer keys and other lesson materials.
A sample slide presentation is available for your review. Please log in to view all the class presentations available with your plan..
Lesson 2
Aquarium Architech
15 Slides
Lesson 3
Deep Sea Sequencing
29 Slides
Lesson 4
Deep Sea Sequencing 2
19 Slides
Lesson 7
Electric Events
21 Slides
Lesson 8
Battery Sequencing
28 Slides
Lesson 9
The North American Grasslands
27 Slides
Lesson 10
The Southeast Asian Rainforest
25 Slides
Lesson 11
The African Savanna
24 Slides
Lesson 12
The African Jungle
22 Slides
Lesson 13
Meet the Dust Bunnies
33 Slides
Lesson 14
Home Sweet Home
18 Slides
Lesson 15
Balloon Bonanza
33 Slides
Lesson 19
The Museum Heist
32 Slides
Lesson 20
Iguana Industries
36 Slides
Lesson 22
Seabed Scribbler
23 Slides
Lesson 23
Starfish Spirals
25 Slides
Lesson 28
Barbershop Bayou
23 Slides
Lesson 29
Day in the Park
19 Slides
Lesson 34
Valentine's Day Card
39 Slides
Lesson 35
Mother's Day Card
50 Slides
Lesson 36
Deep Sea Salvage
46 Slides