Sharing
What is Sharing?
The Sharing option lets you show your friends and family all the cool things you've made with Tynker!
---
Where can I find the Sharing option?
Go to the "My Projects" tab from the home page. At the bottom right of each project panel, there will be a "Share" option.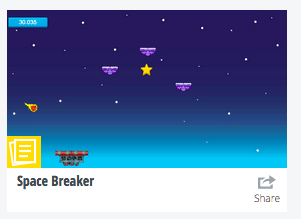 ---
How do I use the Sharing option?
Clicking the "Share" option opens a window with three tabs. Under the "Social" tab, you can share your project through Facebook, Twitter, or Google+. Under the "Embed" tab, you will see some generated text that you can use to embed your project in other websites and blogs that you design. Under the "Email" tab, you can email your project to friends and family.
---
Getting Started
Tools
Tips & Tricks
Blocks Reference
Library Reference