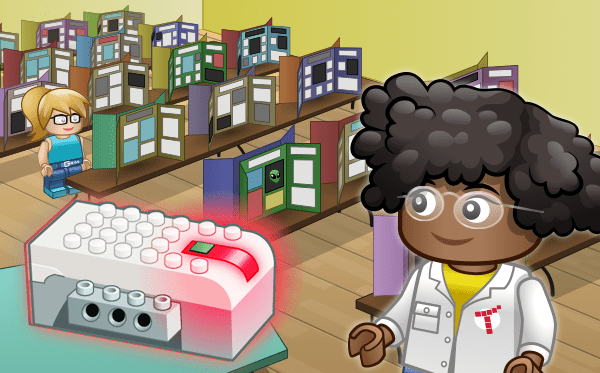 An introduction to WeDo programming where students extend their virtual programs with physical sensors in the LEGO WeDo Smart Hub.
Grades 3-5
Beginner
Web iPad
Description
Introduce your class to WeDo 2.0 and coding. Tynker's coding platform allows students to do so much more with LEGO WeDo, integrating it with web services, programming the WeDo to interact with other devices, using the WeDo as a controller for virtual games, and more.
Using a combination of interactive lessons, concept explanations, videos, puzzles, quizzes, and DIY projects, this courses teaches students to write block-based programs that integrate the WeDo Smart Hub with the environment.
The coding activities build and reinforce STEM skills, math, and science, while introducing programming concepts such as repetition, conditional logic, variables, and functions.
Each lesson is designed for a class period of 45-60 minutes. All student work is automatically tracked and assessed, and you'll be able to monitor individual progress and mastery charts for your students.
How this course works: There are two ways you can use this course:
If using Chromebooks/Desktop Computers: Students sign in to their Tynker accounts and complete a Tynker lesson online from a desktop Internet browser. Then, they sign-in to their account from the Tynker app on a shared iPad device. The DIY projects will be available under the "My Projects" section in their app. They will be able to modify and run the programs on the iPad to control the accessory via Bluetooth. You can share one or two tablets between all students in a classroom and they can take turns controlling the accessary.
If using iPads: Students sign in to their Tynker accounts and complete the Tynker lessons from the Tynker app on an iPad. The DIY projects will be available as they work on the course in their app as well as under the "My Projects" section. They will be able to modify and run the programs on the iPad to control the accessory via Bluetooth.
Recommended Accessories: This course requires a LEGO WeDo 2.0 Kit and a tablet (each sold separately). Once students complete each lesson, they need a tablet to try out the programs with the WeDo Smarthub and sensors. You can share one or two tablets between all students in a classroom.
At least one LEGO WeDo 2.0 kit
One iPad for each kit
The free Tynker app for iPads
Laptop, desktop, or Chromebook computers for students to work through the modules
Topics
weDo command library
Sequencing
Repetition
Events
Conditional logic
Problem solving
Debugging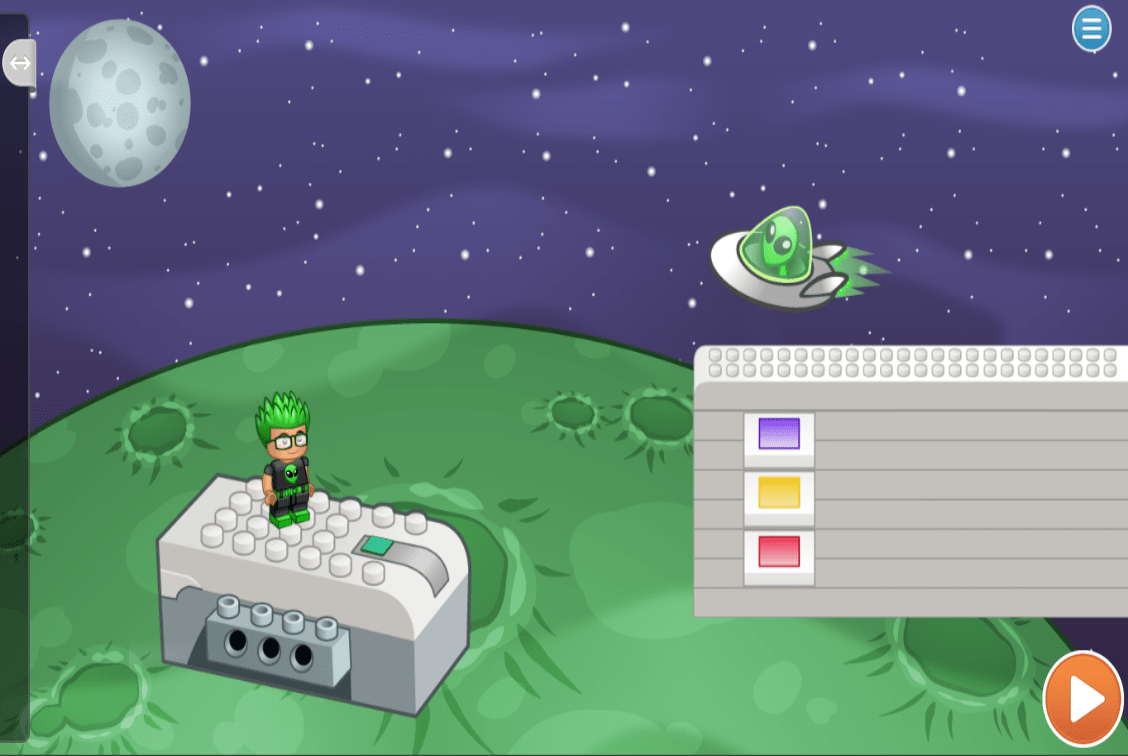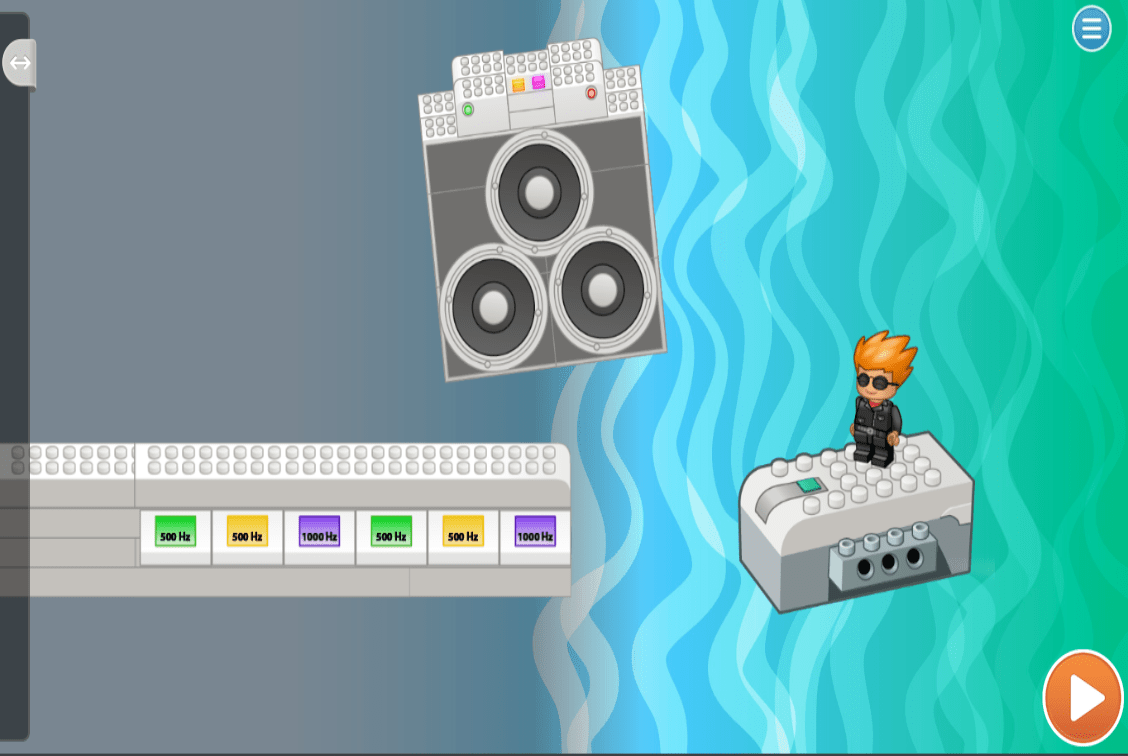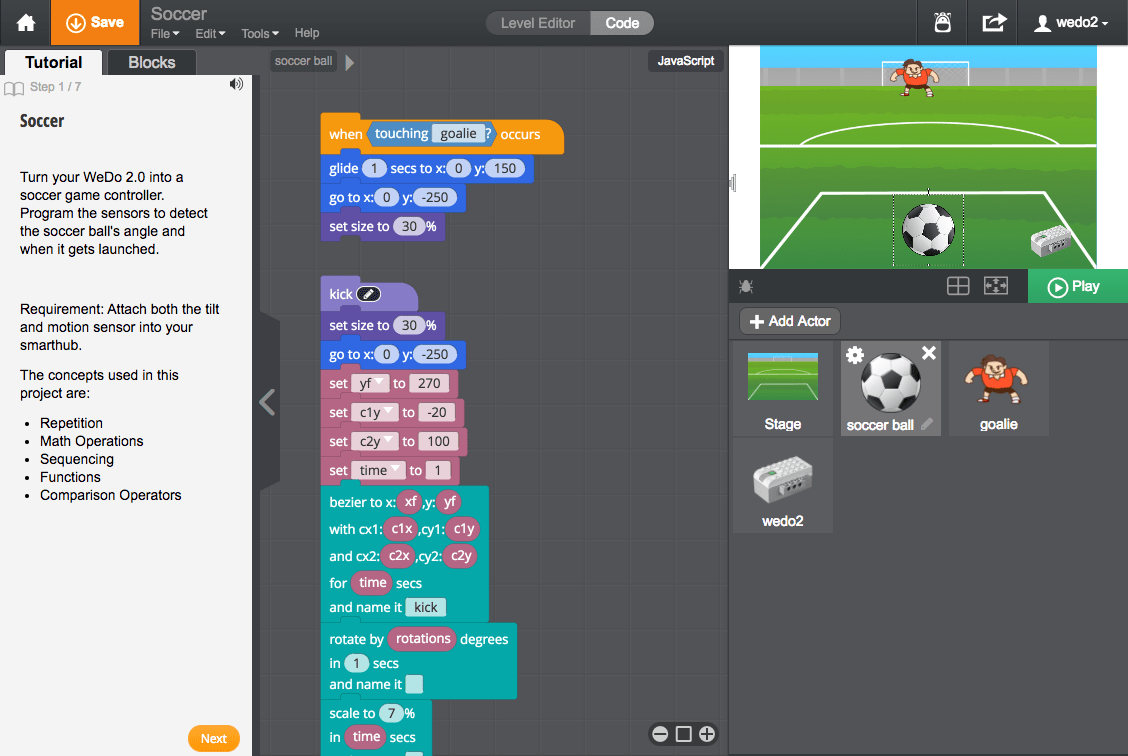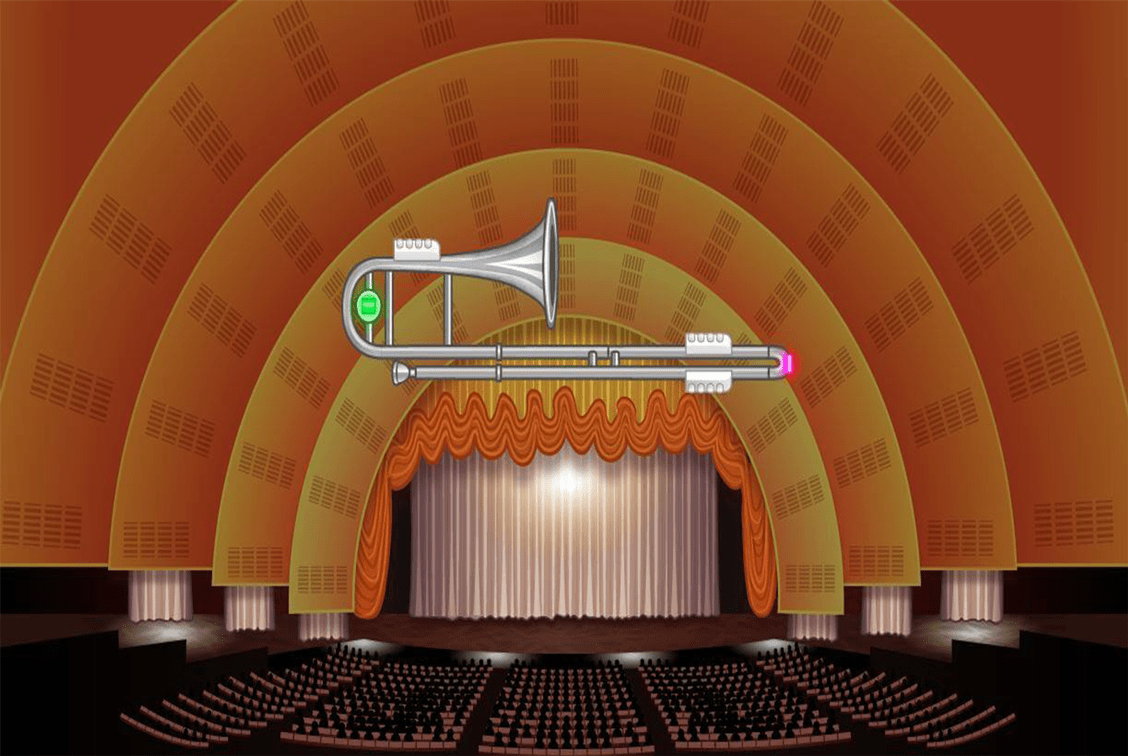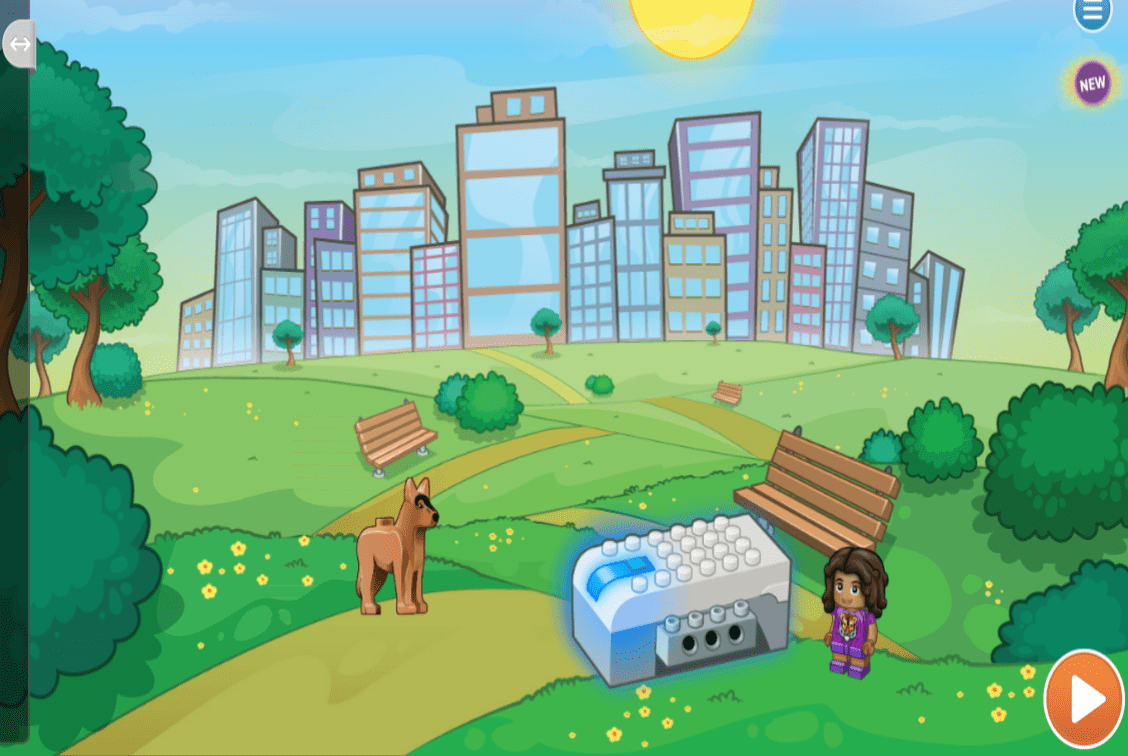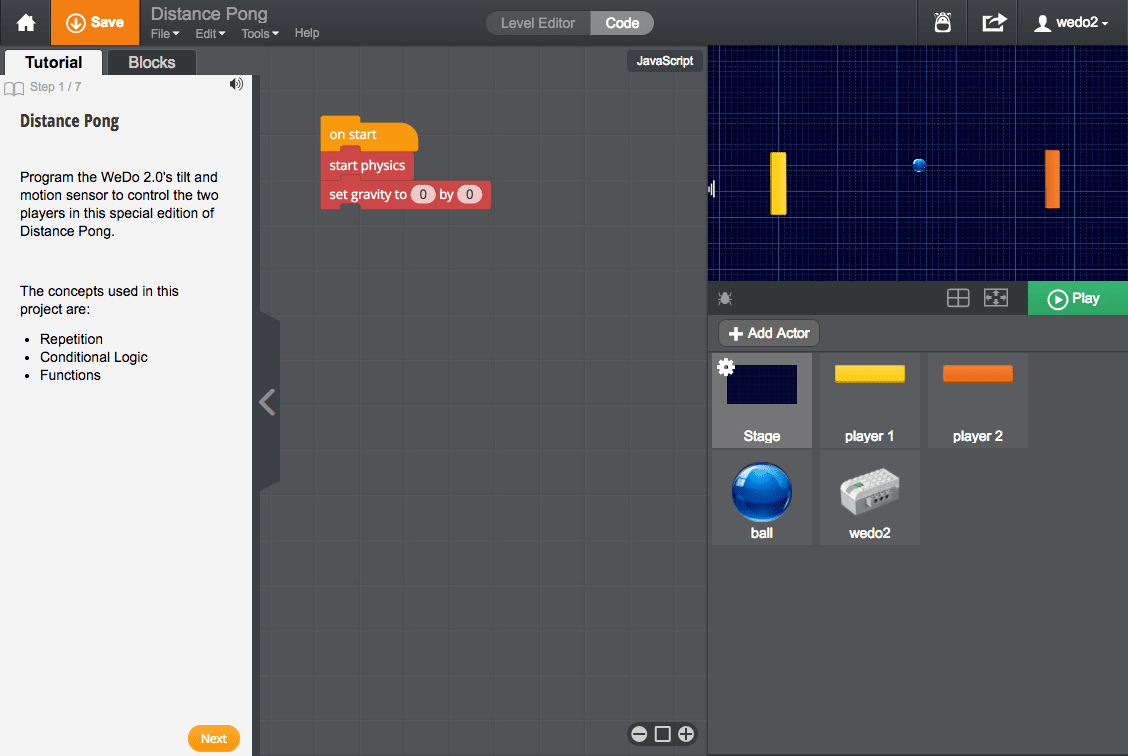 What Students Learn
Introduction to basic programming
Using loops for repetition
Conditional logic
Sequencing tasks
Recognizing patterns
Debugging programs
Problem solving
Game Programming
Networking
Technical Requirements
* Online courses require a modern desktop computer, laptop computer, Chromebook, or Netbook with Internet access and a Chrome (29+), Firefox (30+), Safari (7+), or Edge (20+) browser. No downloads required.
* Tablet courses require an iPad (iOS 10+) with Tynker or Tynker Junior app installed and Internet access
Lesson 1 : Introduction
WeDo Coding
Time: 40+ minutes
Introduction
Tynker Blocks Introduced
Vocabulary
Objectives
Materials
Warm-Up (5 minutes)
Activities (40+ minutes)
Facilitate as students complete all Introduction modules on their own:
1. Outline (Introduction)
2. Alien Communications (Introduction)
3. Alien Communicator 1 (Puzzle)
4. Alien Communicator II (Puzzle)
5. Pairing (Activity)
6. Pairing Test (DIY)
7. Space Signals (DIY)
8. Dog Communications (Activity)
9. Dog Communicator (Puzzle)
10. Dog Communicator II (Puzzle)
11. Savanna Sounds (DIY)
12. Quiz (Multiple Choice)
Extended Activities (5 minutes)
U.S. Standards
CCSS-ELA: RI.3.7, RF.3.4, RF.3.4.A, SL.3.1, RF.4.4.A, RF.1.4.A, RF.4.4, SL.4.1, RF.5.4.A, RF.5.4, SL.5.1
CCSS-Math: MP.1
CSTA: 1A-CS-01, 1A-CS-02, 1A-AP-09, 1A-AP-11, 1A-AP-12, 1A-AP-14, 1A-AP-15, 1B-CS-02, 1B-CS-03, 1B-AP-11, 1B-AP-12, 1B-AP-15
CS CA: 3-5.CS.1, 3-5.CS.2, 3-5.CS.3, 3-5.AP.10, 3-5.AP.13, 3-5.AP.14, 3-5.AP.17
ISTE: 1.c, 1.d, 4.d, 5.c, 5.d, 6.b
U.K. Standards
Key stage 2
Pupils should be taught to:
design, write and debug programs that accomplish specific goals, including controlling or simulating physical systems; solve problems by decomposing them into smaller parts
use logical reasoning to explain how some simple algorithms work and to detect and correct errors in algorithms and programs
understand computer networks, including the internet; how they can provide multiple services, such as the World Wide Web, and the opportunities they offer for communication and collaboration
use technology safely, respectfully and responsibly; recognise acceptable/unacceptable behaviour; identify a range of ways to report concerns about content and contact
Class Presentations
These student-facing slide presentations help educators seamlessly run Tynker lessons in a virtual or physical classroom setting. Each lesson has its own set of slides that introduce the big ideas, suggest unplugged activities, and include a section for each activity module. While running lesson slides, you can switch back and forth between the activity, the slides, answer keys and other lesson materials.
A sample slide presentation is available for your review. Please log in to view all the class presentations available with your plan..
Lesson 2
Light and Sound
21 Slides
Lesson 4
Milo and Friends
23 Slides
Lesson 5
Game Controller
23 Slides
Lesson 7
Weather Station
19 Slides