Python 201
A deeper look at Python for intermediate or advanced coders in upper middle or high school with a focus on real-world computing problems.
Answer Key
Python 201 Answer Keys

The answer keys for Python 201 can be found as part of each lesson activity. Use the "Student Experience" tab to preview the lesson.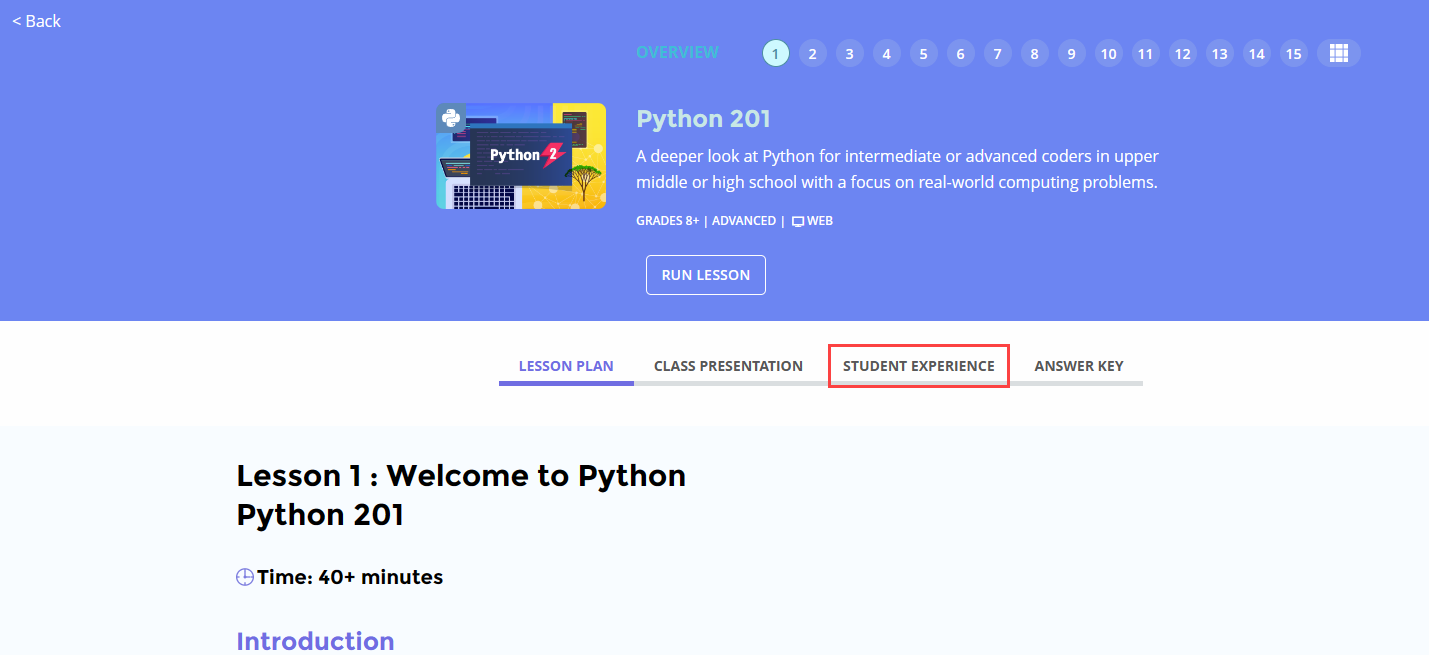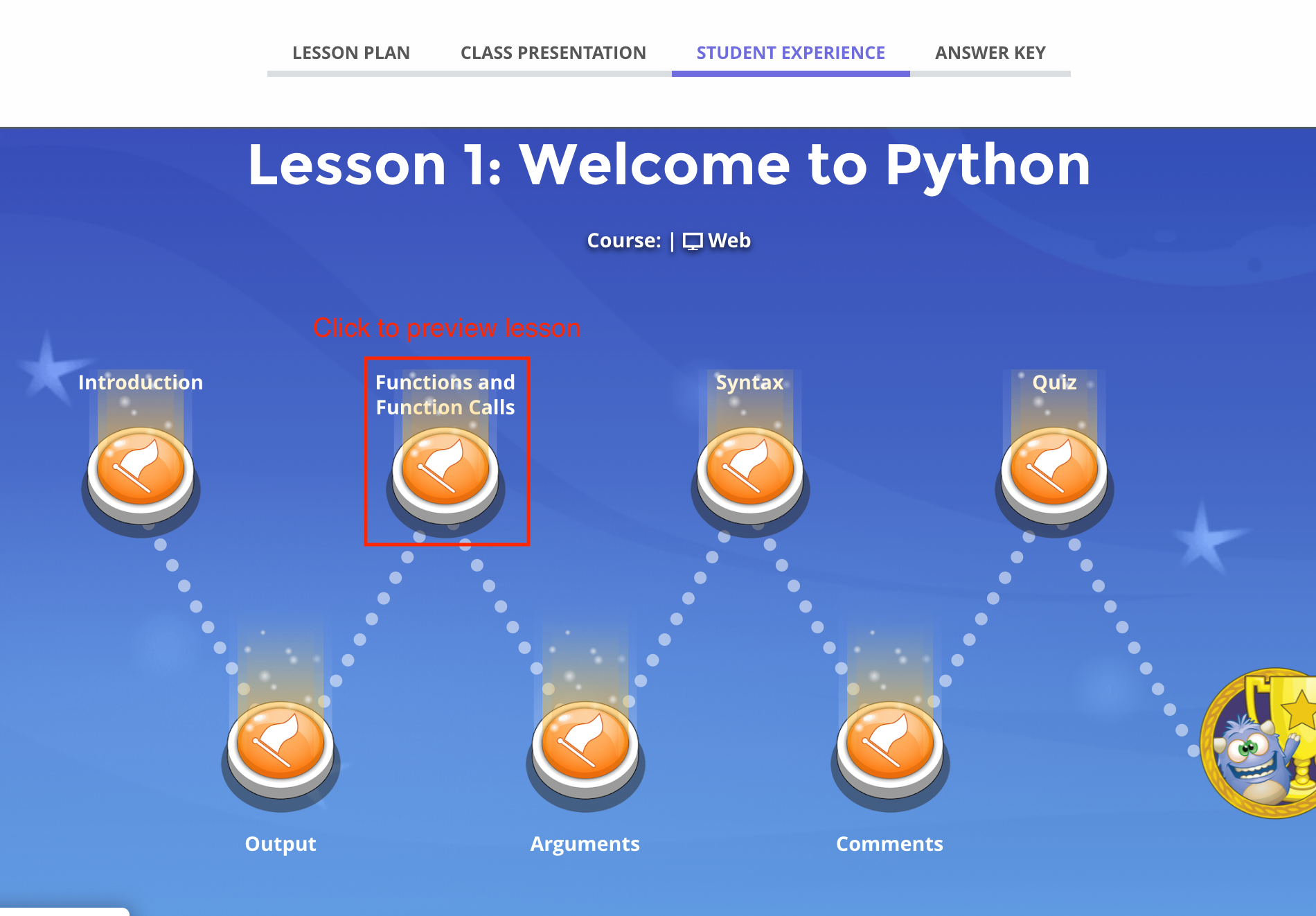 Click on the "show solution" link under each activity to see the solution.


U.S. Standards
CCSS-ELA: SL.8.1, RI.9-10.3, RI.9-10.6, RI.11-12.3, RI.11-12.6, L.9-10.3, L.9-10.6, L.11-12.3, L.11-12.6
CCSS-Math: HSN.Q.A.1, HSN.Q.A.2, HSN.Q.A.3, HSA.CED.A.1., HSA.CED.A.3, MP.1, MP.2, MP.4
CSTA: 2-AP-11, 2-AP-13, 2-AP-16, 2-AP-17, 3A-AP-17, 3B-AP-11, 3B-AP-22
CS CA: 6-8.AP.11, 6-8.AP.13, 6-8.AP.16, 6-8.AP.17, 9-12.AP.12, 9-12.AP.16
ISTE: 1.c, 1.d, 4.d, 5.c, 5.d, 6.b
U.K. Standards
Key stage 3
Pupils should be taught to:
design, use and evaluate computational abstractions that model the state and behaviour of real-world problems and physical systems
understand several key algorithms that reflect computational thinking [for example, ones for sorting and searching]; use logical reasoning to compare the utility of alternative algorithms for the same problem
undertake creative projects that involve selecting, using, and combining multiple applications, preferably across a range of devices, to achieve challenging goals, including collecting and analysing data and meeting the needs of known users
create, reuse, revise and repurpose digital artefacts for a given audience, with attention to trustworthiness, design and usability
understand a range of ways to use technology safely, respectfully, responsibly and securely, including protecting their online identity and privacy; recognise inappropriate content, contact and conduct, and know how to report concerns
Key stage 4
All pupils must have the opportunity to study aspects of information technology and computer science at sufficient depth to allow them to progress to higher levels of study or to a professional career. Pupils should be taught to:
develop their capability, creativity and knowledge in computer science, digital media and information technology
develop and apply their analytic, problem-solving, design, and computational thinking skills
understand how changes in technology affect safety, including new ways to protect their online privacy and identity, and how to report a range of concerns
Lesson 6 : Turtle Graphics
Python 201
Time: 40+ minutes
Introduction
Commands Introduced
Vocabulary
Objectives
Materials
Warm-Up (5 minutes)
Activities (35 minutes)
Facilitate as students complete all Turtle Graphics modules on their own:
1. Libraries (Tutorial)
2. Import Syntax (Tutorial)
3. Other Libraries (Tutorial)
4. Turtle Library (DIY)
5. Draw a Scene (DIY)
6. Turtle Geometry (Tutorial)
7. Filling in Shapes (Tutorial)
8. Turtle Speed (Tutorial)
9. Create a Scene (DIY)
Discussion Questions/Follow-Up Activities (20 minutes)