Discover programming through art, music, and math.
Grades 3 - 8
Beginner
Web
Description
Discover programming through art, music, and math. Collaborate with other campers as you plan and build amazing projects using visual programming. Create interactive greetings, experiment with sounds and musical notes, make your own comics, design characters and animate them, generate math art, and build level-based games. No prior programming experience required.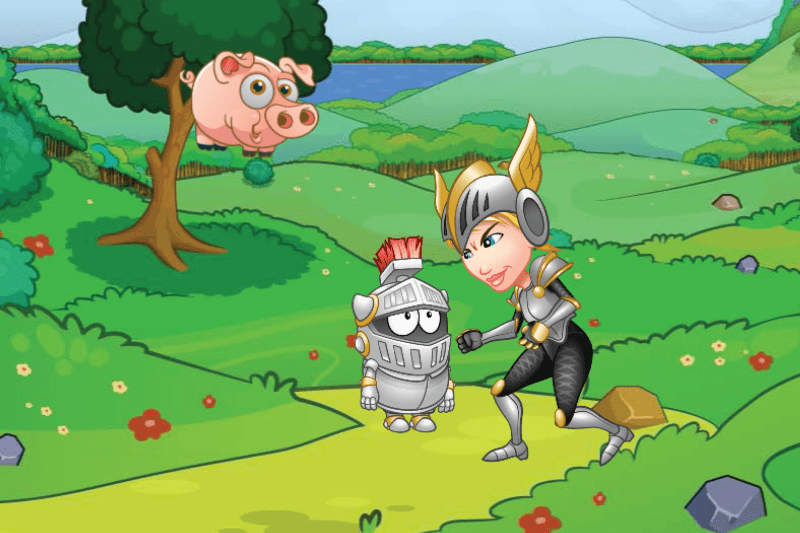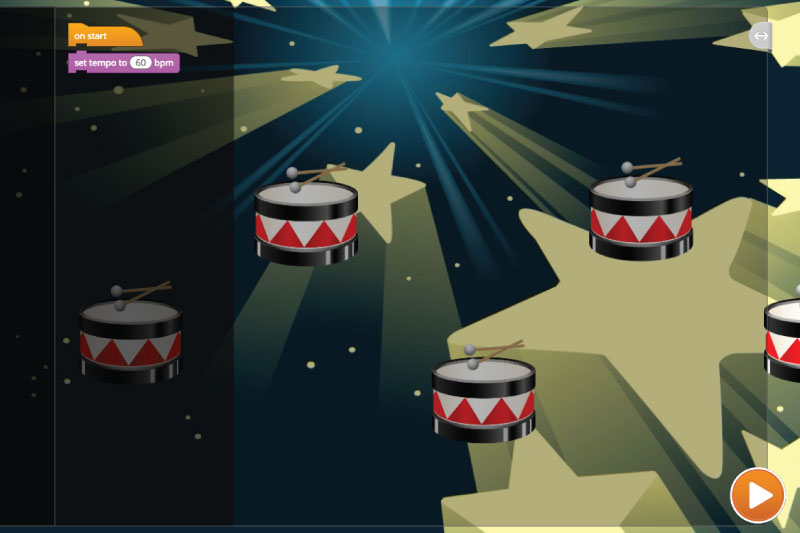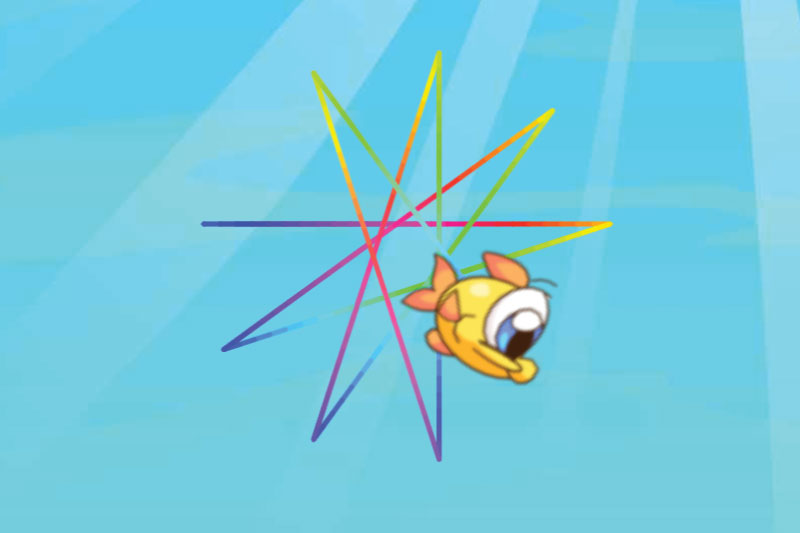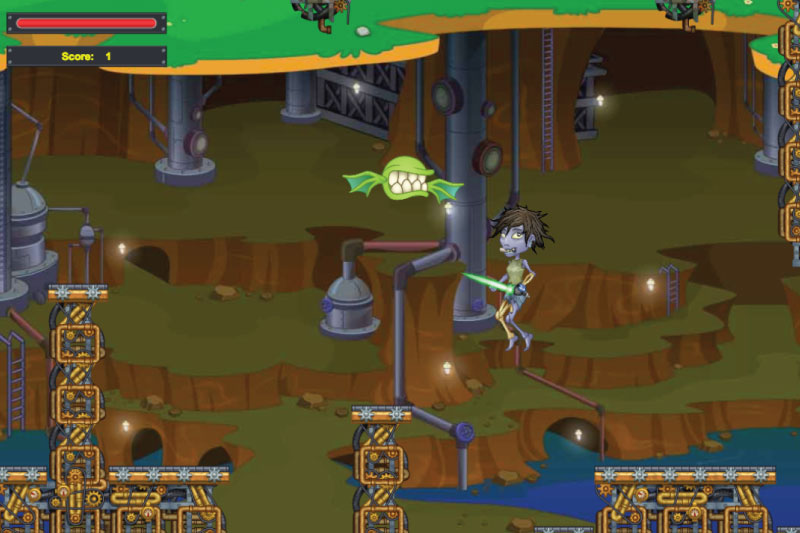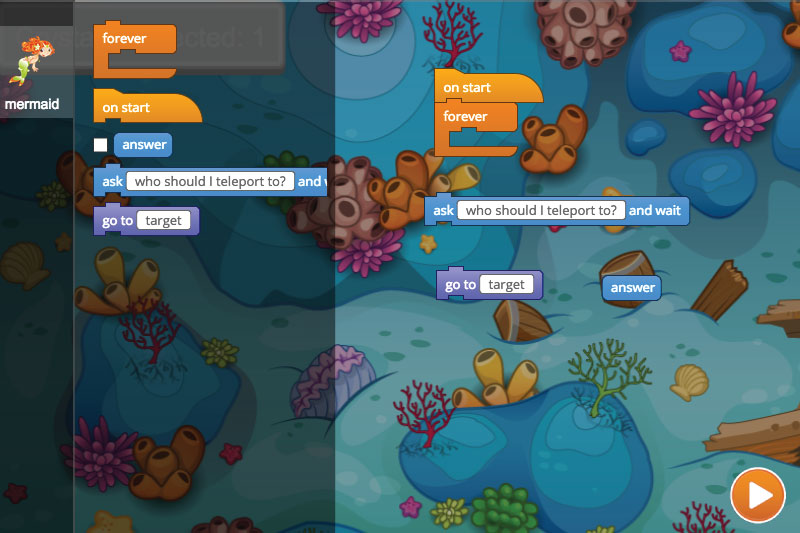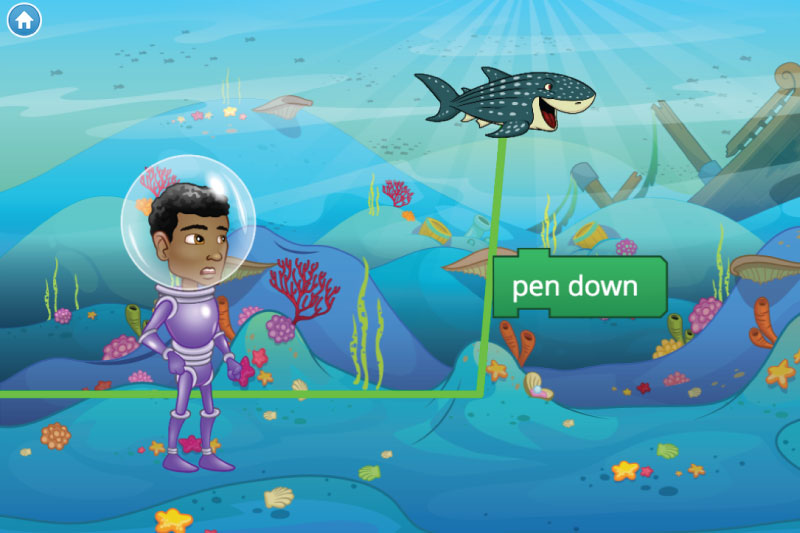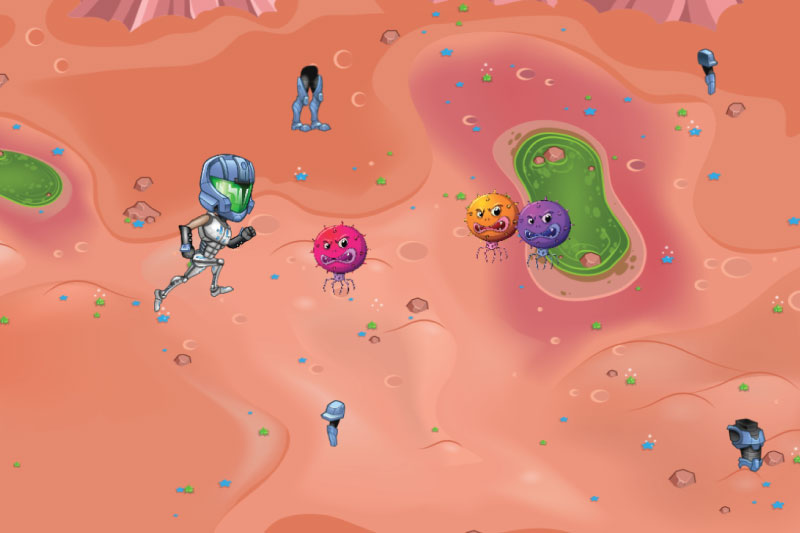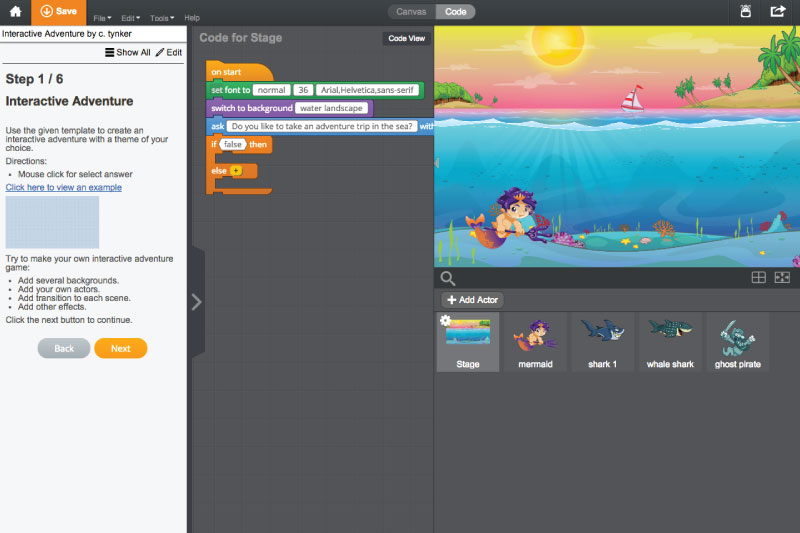 What Students Learn
Day 1: Sounds and music
Day 2: Interactive Stories
Day 3: Pen Drawing
Day 4: Game Design
Day 5: Collaborative Project
Technical Requirements
* Online courses require a modern desktop computer, laptop computer, Chromebook, or Netbook with Internet access and a Chrome (29+), Firefox (30+), Safari (7+), or Edge (20+) browser. No downloads required.
Lesson Plan
Lesson: Sounds and Music
Time: 45+ mins
Introduction
In this lesson, campers will create fun projects as they learn how to add backgrounds, Actors, and sounds. Additionally, they'll apply coding concepts to solve a puzzle module by animating a dragon using the "next costume" code block.
Equipment/Materials
Computer, laptop, or tablets (1 per camper)
New Code Blocks
: Start the program when the play button is selected.
: Run the code attached to this block when the Actor is clicked.
: Play the specified sound file.
: Make the Actor switch to the next costume.
: Keep repeating the blocks inside this loop forever.
: Pause the program for a specific number of seconds.
Vocabulary
Coding: Using a computer language to tell the computer what to do
Sequence: The order in which steps or events happen
Actors: Tynker characters and objects that can talk and interact with each other
Command: A specific action or instruction that tells the computer to do something
Loop: An action that repeats one or more commands over and over
Infinite loop: A loop that repeats forever and does not end until the program stops
Objectives
Campers will...
Apply coding concepts to solve a puzzle module
Use the "switch costume" code block to animate Actors
Add backgrounds, Actors, and sounds to a project
Create two different DIY projects
Getting Started (5 minutes)
Lead a mini-discussion with your campers:
What is something you or someone you know struggled with in the previous lesson?
True or false: When you are programming, there is only one correct answer. (False, when you are programming you should expect that there are several different ways for the computer to output the same result.)
What is something you would like to create using Tynker?
Coding Activities (40+ minutes)
The lessons are intended for self-directed learning. Your role will be to facilitate as campers complete the Sounds and Music modules on their own:
1. Introduction (Video)
Campers will watch a short video of a valkyrie introducing different projects and games they can create using Tynker.
2. Create a Scene (Tutorial)
Campers will follow a step-by-step tutorial to learn how to add backgrounds, Actors, and sounds.
Make sure campers are reading the instructions carefully.
3. Switch Action (DIY)
Campers will follow step-by-step instructions to learn how to program a valkyrie to dance after the user clicks (for web) or taps (for mobile) her.
"Step 1" of the tutorial includes a completed example.
If campers finish early, ask them to experiment with their code.
4. Click to Eat (Puzzle)
To solve this puzzle module, campers need to program the dragon to change costumes to make it look like it's eating a frog!
Give a hint: Ask campers…

How can we animate Actors in Tynker? (Answer: Make them switch costumes.)
What code block should we attach to the "when Actor clicked" block? (Answer: Attach the "next costume" code block. This will make the dragon change to a new costume each time it is clicked [for web] or tapped [for mobile].)
5. Your First Project (DIY)
In this DIY project, campers will apply concepts and code blocks learned so far to create their own project! The project is mostly blank, so they'll need to add Actors from Tynker's Media Library and grab code blocks from the "Blocks" tab. Campers can also use saved Actors and code from previous lessons by using the backpack tool:

You can learn more about the backpack tool here:
https://www.tynker.com/support/backpack
Are campers struggling?

Make sure they're reading the tutorial carefully. The tutorial will provide them with ideas on how to get started and develop their game.
Ask them to use Actors from the backpack tool or look at code from previous modules as a reference.
Wrap Up
Unplugged Activity: Discussion
Review today's coding adventure by leading a discussion. Ask campers:
What is something you learned today using Tynker? (Example: How to add a background to a scene, add Actors and animate them, add sound.)
Did anyone explore different sounds? What was one of your favorite sounds?
Class Presentations
These student-facing slide presentations help educators seamlessly run Tynker lessons in a virtual or physical classroom setting. Each lesson has its own set of slides that introduce the big ideas, suggest unplugged activities, and include a section for each activity module. While running lesson slides, you can switch back and forth between the activity, the slides, answer keys and other lesson materials.
A sample slide presentation is available for your review. Please log in to view all the class presentations available with your plan..
Lesson 2
Drums and Instruments
20 Slides
Lesson 5
Drawing with Colors
24 Slides
Lesson 6
Drawing Patterns
19 Slides
Lesson 7
Drawing Puzzles
20 Slides
Lesson 8
Challenge: Whack-a-Goblin
13 Slides
Lesson 9
Custom Characters
21 Slides
Lesson 10
Challenge: Brazen Invasion
14 Slides
Lesson 12
Challenge: Doom Racer
16 Slides
Lesson 13
Custom Adventure Generator
20 Slides
Lesson 14
Challenge: Top-Down Game Design
15 Slides
Lesson 16
Challenge: Brick Breaker
15 Slides