Code with Monsters this Halloween!
Code with Monsters this Halloween!
Get coding with our fun Halloween programming activities! Start with a set of 20 puzzles, a music video do-it-yourself project, or a trick-or-treat storytelling project.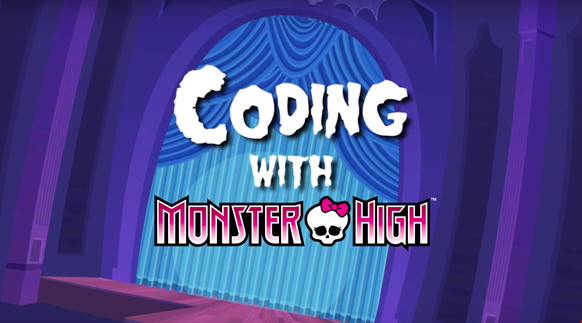 Play Scavenger Hunt Puzzles
These puzzles feature the "ghouls" (girls) of Monster High, a high school for teenage monsters. Each student has something that makes them "strange," but it's this difference that makes them special.
Solve coding puzzles to complete a scavenger hunt while avoiding the skeletons that have invaded Monster High. Use each ghoul's unique power to scare the skeletons away: Frankie throws her arm, Cleo uses mind control, Draculaura transforms the skeletons into bats, Ghoulia throws a volleyball, and Clawdeen howls at the skeletons. Collect all the school crests as you quest through the halls of Monster High!
Compose a Music Video
After learning the basics of coding, program your own dance party music video with the Monster High ghouls and share it with friends. Use code blocks to choose a setting, add music, choreograph the ghouls, and animate other Halloween-themed items in the scene.
Direct a Trick-or-Treat Scene
Use code to create a funny storytelling project about a trick-or-treater going to a grumpy man's house. Then add your own ending for the scene!
All of these fun new activities are appropriate for kids in grades 3+. No programming experience is required.
Get coding today!